Saranda is a little paradise on earth, and one of the top destinations in Albania. This small city is a perfect getaway destination for people who like nature and the beach, and who are looking for peace and quiet. It's also one of the most popular tourist destinations in Albania, attracting visitors from around the world. You'll find that Saranda offers plenty to do, but that there is also plenty of space to relax.
Albania has a lot to offer when it comes to traveling, and you're bound to see some of the most beautiful places in the world. You can find beautiful beaches along the coast, ancient ruins and monuments all over the country, and some of the best food in the Balkans. The main language is Albanian, and you can also speak English, Italian, French and German.
When planning your trip to Saranda, it's important to think about how you're going to get there. In this article, I'm going to show you how to rent a car in Saranda so that you can travel around the country without having to worry about public transportation.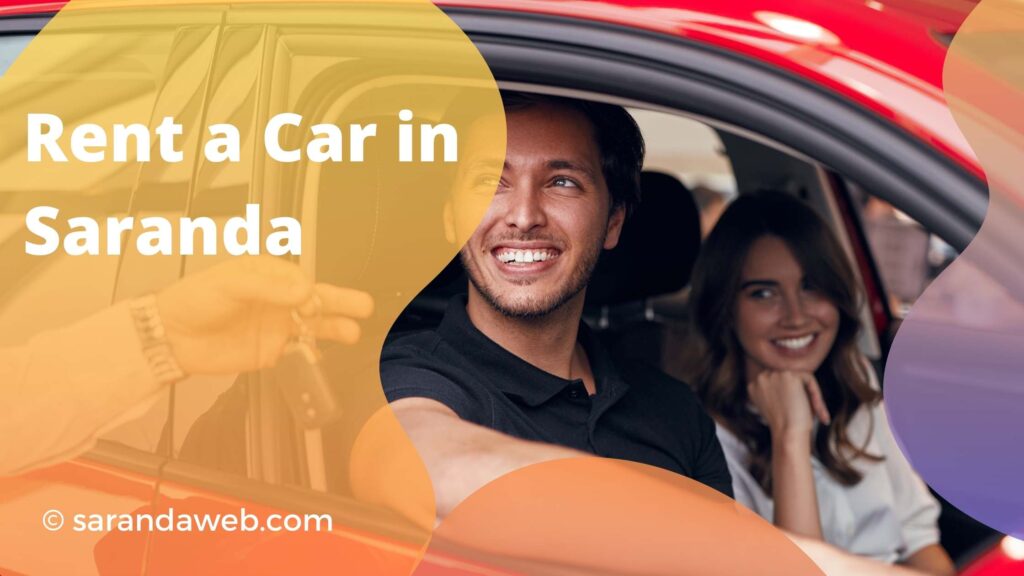 Finding the best place to rent a car in Saranda
It can be easy to just jump in a taxi or a bus and head off to the nearest town where you know there are rental car agencies. But if you want to explore more of the country and the city, then you'll need to rent a car.
There are a few different ways to rent a car in Saranda. Some people will tell you that it's better to rent a car from the axirport, but I personally found it easier to rent a car from the city center. If you're going to rent a car from the airport, then you'll want to make sure you book in advance, as it can take a while to get to the airport. And if you're planning on driving to the airport, it's a good idea to book a car in advance, as there can be long lines at the rental car desks.
Renting a car from the airport is not always the best option, though. If you want to rent a car from the airport, then you should probably rent in the city where you are staying, as the airport rental car companies usually have very strict rules about where they will let you drive.
When renting a car from the airport, you should also make sure that you get the right type of insurance. You may not realize it, but your car insurance may not cover your rental car. You should check your policy and ask your insurance company to make sure that it covers your rental car.
One of the best ways to get around the city is to rent a car, but you don't necessarily have to rent a car from the airport. There are plenty of car rental companies in Saranda, and the best ones will be able to help you get around the city. You can look up local rental car companies online, or ask at the tourist office.
When it comes to choosing a car hire company in Saranda, you'll want to make sure that they are reliable and trustworthy. Check out reviews online, and see if they have been around for a while. Ask friends and family who have rented from them for advice, and read reviews.
The cost of renting a car in Saranda
The cost of renting a car in Saranda depends on the type of car you want to rent. Most people who rent cars in Saranda will pay between $30 and $80 per day. If you are renting for more than a week, then you will usually have to pay a deposit, which can range from $100 to $400. You will also need to pay for insurance, which can cost anywhere from $5 to $25 per day. The price of renting a car in Saranda can vary depending on the car you want to rent.
You can save money by renting a compact car, which costs $20 per day. If you're looking for a more spacious car, you'll need to pay more for the rental. A mid-sized car will cost about $40, while a large car will run you about $80.
Driving in Albania
Albania is a safe country, and many people will tell you that they have never felt unsafe while driving. However, it's still a good idea to drive defensively. Drivers in Albania are generally good about obeying traffic laws, but they do tend to drive very fast and sometimes weave in and out of lanes. Be careful when changing lanes, and don't be surprised if you find yourself tailgating.
Driving can be a great way to see the country. If you are feeling adventurous, then you could rent a scooter. These are relatively cheap and can give you a fun way to see the countryside. You can also get a motorcycle, which will be more expensive.
When driving in Albania, be aware that the roads are generally in good condition, but they are often full of potholes. If you plan on renting a car, then you will definitely want to check out the road conditions before you start driving.
Finding the best time to visit Saranda
Saranda, located on the Albanian Riviera, is considered by many to be the ideal summer holiday destination. The region's beautiful sandy beaches and turquoise waters are an undeniable draw for tourists, but the city also offers a wide variety of other activities, such as golf, hiking and water sports.
In order to enjoy the best possible experience while visiting Saranda, it's essential to plan ahead and to know what time of the year is best suited to your trip. According to a survey conducted by TripAdvisor, the best time of year to visit Saranda is between May and September, with July being the most popular month.
The climate in Saranda is Mediterranean and dry with hot, dry summers and mild, wet winters. The average annual temperature is around 15 °C, which is slightly cooler than the rest of Albania, but still warm enough to make sure that there is always plenty of sunshine. The summer temperatures can sometimes reach as high as 30 °C, but the average maximum temperature during the hottest months is around 24 °C.
Saranda is located at an elevation of around 160 meters above sea level. The area experiences a relatively low number of rainy days, with an average of just five days with rain per year. The average rainfall is around 200 millimeters, which is a bit higher than the average rainfall in Albania.
During the summer months, it is important to take the temperature into account. The best time to visit is from April to October, when the temperature is in the high 20s Celsius, but it can get extremely hot in Saranda during the summer months. If you do decide to travel to Saranda, ensure that you bring some sunscreen and waterproof clothing.
In terms of accommodation, the main city in the region is Saranda. Most of the hotels in Saranda offer air conditioning and free Wi-Fi, but they are generally expensive. It is possible to find accommodation for much cheaper in nearby areas, such as the village of Zalizë, which is only 5 kilometers away.
The nearest airport to Saranda is Tirana International Airport, which is just over 100 kilometers away. There are daily flights to Tirana from most European cities, including London , Paris , Brussels, Milan, Amsterdam , Athens and Istanbul . There are also international flights to London and Frankfurt from the United States.
Last Updated on 17th July 2022